About Us
Raising Performance Quarter Horses in Colorado
Today, there are so many horses to choose from. However, there's a difference between quantity and quality, and we choose quality here. Pulling from years of knowledge around us, and studying the industry, we believe the horses we produce are versatile and bred for success.
The name Rafter 54 is a tribute to where James and Mary-Anne first met years ago…54th Street.
Mary-Anne Van Berkum's team roping involvement dates back to her childhood. Between roping and and watching guest horses take care of the people staying at her family's dude ranch, the importance of a truly good horse became more and more apparent.
When Mary-Anne met James, she introduced him to the dude ranching world, and then the sport of team roping. Through that, James quickly realized there's more to horses than just riding, and he became invested in learning everything that he could. Now, the both of them rope, and spend many an hour in the saddle.
Today, James and Mary-Anne have built a breeding program around producing high caliber performance horses for ranching and riding. They breed and raise young horses that are athletic, correctly built, and good-minded in order to withstand the demands of a ranching and performance lifestyle.

Our History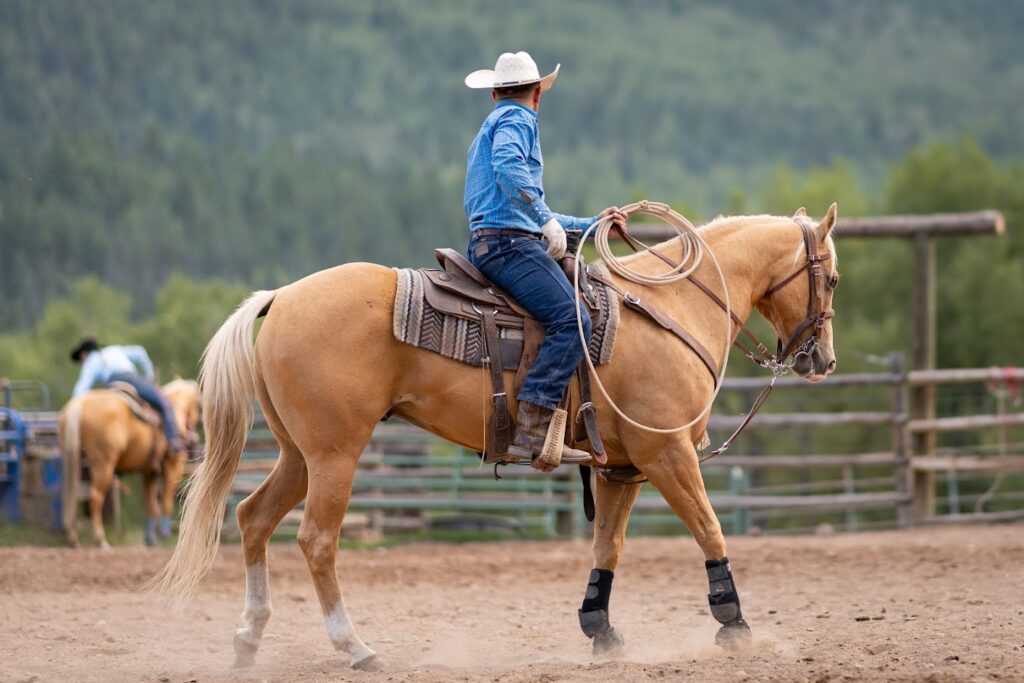 Mary-Anne Van Berkum's family has been involved in dude ranching since the 1980s. Her grandparents, Doug and Linda Van Berkum, and parents, David and Jane Van Berkum, have developed an incredible guest ranch over the years, called Rainbow Trout Ranch. Her parents run the horse program, and RTR is where Mary-Anne fell in love with horses.
When it comes to a dude/guest horse, there is more to it than most people initially conceptualize. These horses have to be incredibly versatile, carrying a variety of riders in mountainous terrain, crossing rivers, in all kinds of weather. Mary-Anne has seen so many horses take care of their guests, and it has helped shape the qualities she values in a performance horse.
For Mary-Anne and James, it's not just about breeding horses just for one discipline, but breeding horses for versatility. The excellent conformation and sound mind of a Rafter 54 horse can take you from the mountains and trail rides to high end performances, timed events, ranch rodeos, and shows. With a Rafter 54 horse, your riding possibilities are endless.
---
Questions or Comments?
Feel free to reach out to us regarding us, our mares, or our program.
Call: +1 (719) 580 8653